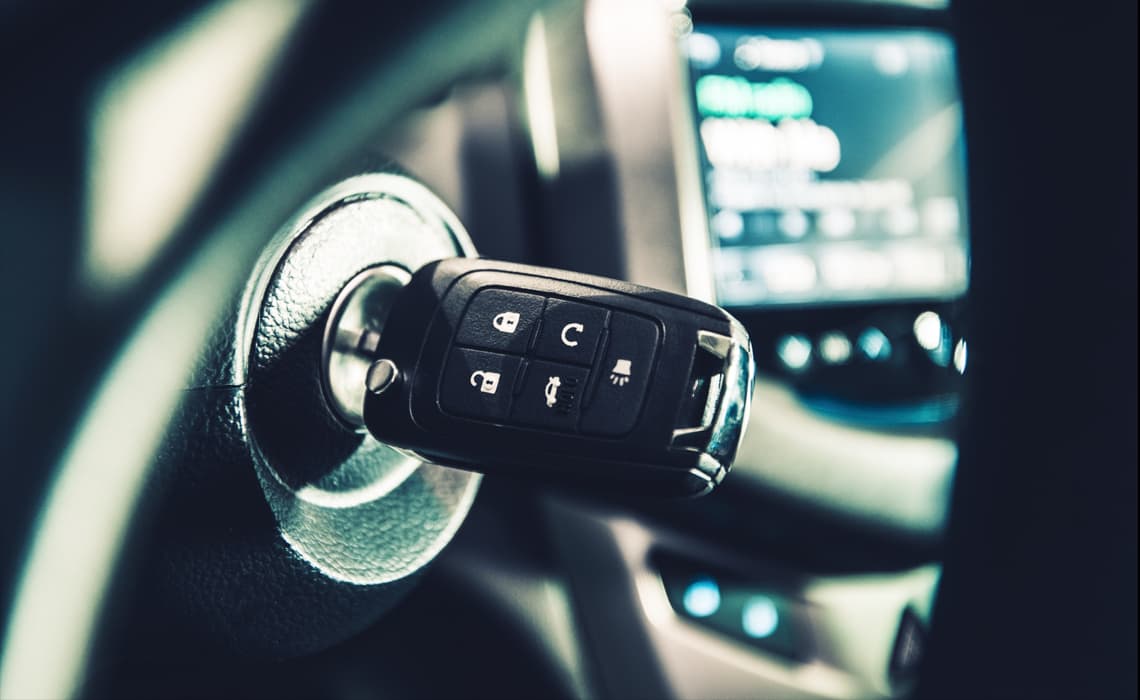 Sell us your car, even if you don't buy from us.
We're always looking for vehicles to stock our lot with. Get an easy, no obligation, online quote for your vehicle.
Start early, get approved online before you shop.
Fill out our quick credit application and we'll work with you to find the right vehicle that you can afford.
Ford Dealership in Macon, GA
We're proud to provide Georgia drivers with a full range of Ford dealership services, a professional service center, and a friendly finance team. We also have a new and used inventory of Ford cars, SUVs, and trucks. Feel free to call us if you have any questions about what we currently have available.
New Ford Cars in Macon
Ford is among the most popular automakers thanks to its diverse lineup of cars, including hardworking trucks and powerful crossovers that can handle a trail or a long highway drive. Our showroom has SUVs like the compact Escape, large Expedition, and off-roading Bronco. You can also explore our selection of F-150 pickups and Mustang sports cars.
The F-150 has retained its place as the bestselling full-sized pickup for decades because of its unbeatable towing abilities, powerful engine lineup, and quality cab interiors. The F-150 can pull up to a class-leading 14,000 pounds when fully equipped. You can choose from six engine options, allowing you to equip your F-150 with a powertrain designed for towing, city driving, or highway journeys, depending on your needs. If you'd like a pickup with smaller dimensions, you can check out our Ford Ranger and Maverick offerings.
Regarding crossovers, the Bronco Sport and Ford Edge are attractive options if you're looking for a vehicle with a compact design that's ideal for maneuvering busy roads. Buyers searching for more interior space can consider the Explorer, while those of you venturing off the beaten track probably won't find a better option than the Bronco. The Bronco has everything off-roaders need, from skid plates to all-terrain tires and excellent low-range gears.
Fans of rapid acceleration and tight corners will be well served by the Mustang, which includes two V-8 engine options. One of its supercharged variations can pump out an incredible 760 horsepower. Ford is also making a name for itself by developing new electric vehicles. The F-150 Lightning is a leading all-electric truck, and some popular crossover models are available as hybrids.
Used Cars, Trucks, and SUVs
Many of our customers prefer to purchase a used car rather than choose a vehicle fresh off the assembly line. All of our used vehicles are well-maintained. They all go through a thorough inspection completed by one of our professional service technicians to ensure everything is in good working order. You can get protection for your used car purchase by adding one of our competitively priced service contracts, which will cover many future repair costs.
A significant advantage to buying a used car at Riverside Ford is the affordable prices available. Most vehicles depreciate over the first year or two of their lives. As a result, you may be able to get behind the wheel of a vehicle with a few extra luxuries or a more powerful engine if you pick a used version instead of the latest model.
Another option open to you, if you want to save even more, is to sell us your existing vehicle. Through our vehicle trade-in program, you can provide us with a few basic details about the car or crossover you currently drive, and we'll generate a no-obligation quote for you to consider. If you decide to proceed with our purchase offer, we'll deduct the sales price from our new or used vehicle prices at our Macon, GA, Ford dealership.
Flexible Auto Financing
Whether you buy a new Ford or a used car, our auto finance team is always on hand to help you secure auto financing to fund your purchase. Our finance department has worked with many customers over the years, including those who have struggled to get approved for a car loan.
If you're interested in applying for auto financing at Riverside Ford, all you need to do to get started is complete our simple online preapproval form. Once you send the completed form to us, one of our finance team members can create a loan deal that suits your requirements.
Perhaps you've decided that purchasing a vehicle outright isn't your best option. If so, you may be interested in learning more about our leasing options. As part of a lease deal, you agree to pay us a monthly fee for a fixed period, such as a year or two, during which you can drive one of our new Ford vehicles. When the lease ends, you can either agree on a purchase price to buy the vehicle from us or return it to our Macon Ford dealership in good condition to end the lease.
Auto Servicing With Genuine Ford Parts
Once you purchase your vehicle, you can rely on our service and parts departments to help with your maintenance and repair needs. At our Ford-certified service center, our technicians can perform routine maintenance tasks, such as oil changes, tire rotations, wheel alignment, brake service, battery repair, and fluid top-offs. If something more serious is wrong with your car, we can conduct engine diagnostics or other inspections to resolve the problem.
Schedule Service and Order Parts
Our Ford service center works closely with our parts team to source only the best Ford OEM parts and components for your vehicle. Our full-service dealership offers a well-stocked inventory of auto parts and accessories designed to fit your exact vehicle optimally. Filters, caps, tires, wheels, wiper blades, seat covers, and much more are all at your fingertips. Don't forget to look through available parts coupons and special offers--you could save money on performance parts, lifestyle accessories, and replacement parts. You can order parts directly from Riverside Ford if you plan on performing your auto maintenance at home.
Now you know more about all the excellent auto services available here at Riverside Ford. If you have any questions about our new and used inventory, auto financing, or service options, please get in touch with our team. Whether you are in Forsyth, Milledgeville, or Byron, GA, don't just take our word for it. You can reach us by phone or online message or swing by our Macon dealership to chat with one of us in person.
Contact Us